Watch billionaire Gautam Adani board his private jet after getting off a BMW 7 Series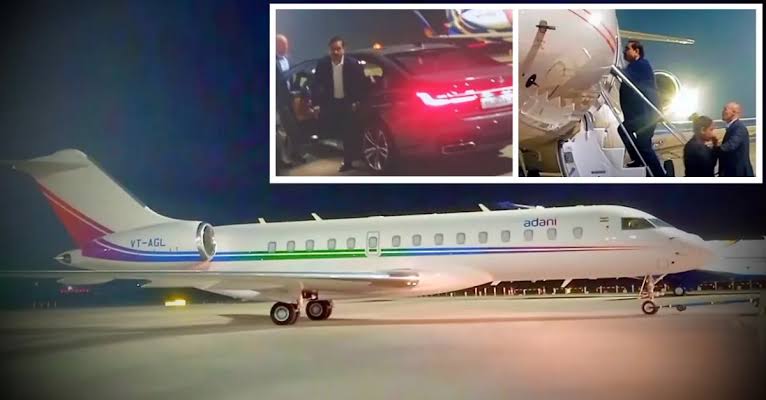 Billionaire Gautam Adani keeps a very low profile and has been spotted often. This rare footage of Gautam Adani is from an airport where he is boarding his private jet. Adani gets out of his luxurious BMW 7-Series sedan right in front of his private jet – Bombardier Global 6500.
The footage is from Indira Gandi International airport in New Delhi. The video shows Gautam Adani getting off his new-generation BMW 7-Series and getting into his private jet. The Adani Group Chief Financial Officer (CFO) Jugeshinder Singh was also spotted boarding the private jet with Gautam Adani.

Adani has been spotted with a few cars in the past. He recently bought a Land Rover Range Rover Long Wheelbase (LWB) that is stationed in Gujarat. But it seems like Adani has always preferred the BMW 7-Series over other vehicles. Adani was spotted with an old 7-Series many years ago. This is the first time that the billionaire is spotted with the new-generation BMW 7-Series.
Adani and Singh quickly got out of the car and boarded the Bombardier Global 6500, which can cost $53 million or around Rs 500 crore. The private jet has the Adani company logo complete with the pinstripe and the call sign of VT-AGL.
BMW 7-Series M Sport
This seems like the flagship deep blue shade of the 7-Series. The flagship 4-door saloon from the German car manufacturer is loaded with luxury features and offers acres of space inside. Even though the sedan was spotted only a few seconds, we think that it is the 740 Li M Sport variant.
Gautam Adani also owns the Land Rover Range Rover Autobiography LWB. It is one of the most luxurious vehicles available in the market and comes powered by a 3.0-litre diesel engine. The in-line six-cylinder engine produces a maximum power of 346 Bhp and a peak torque of 700 Nm. It comes with an 8-speed automatic transmission and four-wheel drive as a standard feature.
The cabin of the Range Rover LWB gets a dual-tone black and beige finish. It gets leather upholstery and brushed aluminium inserts, wood inlays and black piano inserts.